Forlorn Hope are pleased to reveal 'Postcards from the Front'; a brand new initiative that they will be trialling in March 2020 (and hopefully continuing throughout the year), designed to express their appreciation for the fans and the incredible loyalty, support and enthusiasm that they show the band every day 
Once a month, the band will be sending out a history-themed postcard to one lucky fan with a unique handwritten message; it could be an update from the field on what we're currently up to, some handwritten lyrics, or whatever else the band decide to include!
Each postcard will be signed by the whole band and will bear the official Forlorn Hope stamp of authenticity. The band hopes that it will represent a unique and personal piece of band memorabilia that fans will be eager to get their hands on.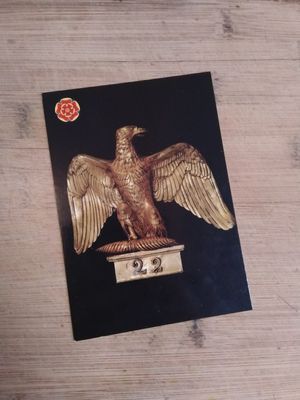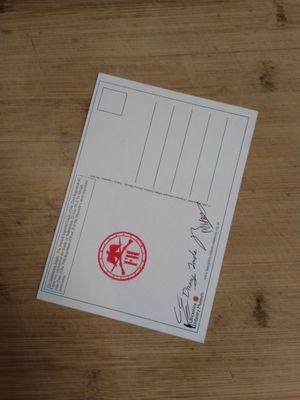 March 2020's postcard (pictured) shows the magnificent Salamanca Eagle currently held at the Lancashire Infantry museum, in recognition of this being the month of the anniversary of Keogh and Masterson's capture of a similar Eagle at Barrosa in 1811; the events that inspired Forlorn Hope's song 'The Eagle Hunters'. 
Future postcards will be shared on the bands social media at the start of the month. 
To be in with a chance of receiving one of these 'Postcards from the Front' all you have to do is: 
-Go to the contact page found here.
-Leave a message with the words "Postcards from the Front" and your name and postal address 
Postcards will be sent out on the last Monday of the month. 
Winners' names will not be revealed on social media, but if you include your email address the band will notify you if you have been successful. 
There is no need to enter your address every month. Once you have submitted your details once, you will be in the running for a postcard every month until your name is drawn. Multiple submissions will not increase your chance of winning. 
The band will not send multiple postcards to the same people; if a previous winner's name is drawn, the winning name will be redrawn. 
If at any point you would like your details to be removed from our list of entrants, just: 
-Go to the contact page here. 
-Leave a message with the words "Postcards from the Front - REMOVE" and your name