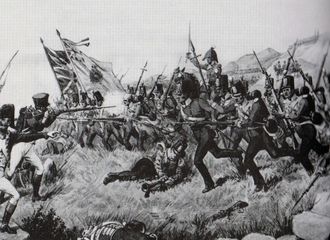 The Allied offensive of Summer 1809 came to a head on 28 July outside the town of Talavera de la Reina.

Disciplined lines of British redcoats drove back the advancing French columns with their relentless volley-fire, only for a botched counter attack to throw their whole position into jeopardy. The timely intercession of the British commander, Arthur Wellesley, sured up the line until a well-timed cavalry charge broke the final French attack.

It was a famous victory that earned Wellesley the title of Viscount Wellington, but with 6,500 British and Spanish dead or wounded the Allies could not press their advantage and Wellington was forced to retreat to Portugal.
This page contains a substantially condensed version of the sleeve notes that accompany 'Over the Hills'. For a more detailed look at the history behind these songs, along with a bibliography of the books that were invaluable in writing them, you can purchase a copy of the album here.