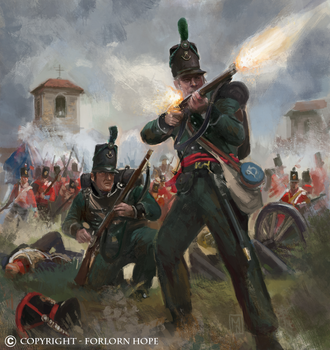 Armed with the formidable Baker rifle and wearing their distinctive green and black uniform, the 95th (Rifles) Regiment of Foot remains one of the most iconic fighting units of the Napoleonic Wars.

Trained in skirmish tactics and advanced fieldcraft, few were safe from the deadly accuracy of these legendary sharpshooters, as demonstrated at the Battle of Cacabelos on 3 January 1809 when Rifleman Thomas Plunkett shot and killed the French General Auguste Colbert-Chabanais at considerable range.

The 95th served with great distinction throughout the Peninsular War and played a prominent role in most of its major engagements, from Roliça in 1808 to Toulouse in 1814.
This page contains a substantially condensed version of the sleeve notes that accompany 'Over the Hills'. For a more detailed look at the history behind these songs, along with a bibliography of the books that were invaluable in writing them, you can purchase a copy of the album here.