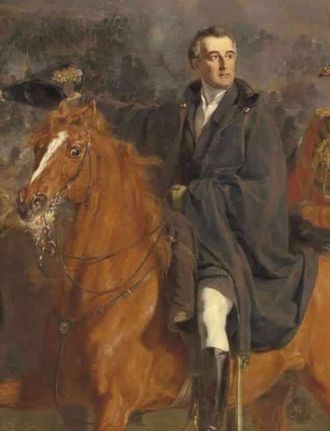 The Duke of Wellington forged his reputation in the Peninsular War and the Battle of Salamanca of 22 July 1812 is widely considered to be his tactical masterpiece.

After two days of the Allied and French armies manoeuvring around each other, Wellington caught Marshal Marmont off guard with his army strung out along a ridge.
He launched three infantry divisions at the French, raining successive hammer blows on the over-extended line, followed by a devastating heavy cavalry charge that destroyed eight battalions. Marmont and his second in command were both wounded and the French fell into chaos.

Despite a valiant rearguard action, it was a crushing defeat for the French who lost 14,000 men, twenty guns, two divisional commanders and two precious eagles.
This page contains a substantially condensed version of the sleeve notes that accompany 'Over the Hills'. For a more detailed look at the history behind these songs, along with a bibliography of the books that were invaluable in writing them, you can purchase a copy of the album here.