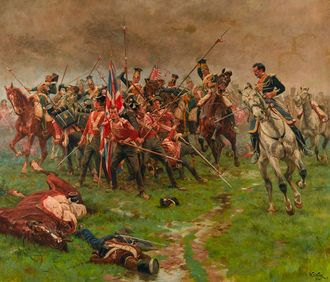 The Battle of Albuera, 16 May 1811, was one of the bloodiest incidents of the Peninsular War. After helping to repel the first French attack, three battalions of British infantry were caught in the open and massacred by French cavalry.

The carnage continued in the centre where the opposing sides exchanged artillery and musket fire at horrifically close range. Bayonet charges were repeatedly attempted and beaten back, but neither side broke, resulting in a murderous deadlock.

The Colonel of the British 57th was wounded by grapeshot but refused to be taken to the rear. He lay with the regiment's colours, shouting "Die hard, 57th! Die hard!". The 57th were known thereafter as 'The Die Hards'.
This page contains a substantially condensed version of the sleeve notes that accompany 'Over the Hills'. For a more detailed look at the history behind these songs, along with a bibliography of the books that were invaluable in writing them, you can purchase a copy of the album here.