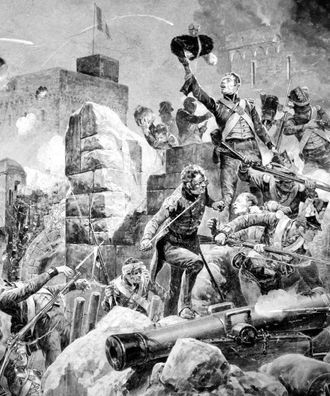 The storming of the monstrous fortress of Badajoz remains one of the darkest chapters in the British army's history.

On the night of 6 April 1812, Wellington's men began the desperate assault; climbing the steep rubble slopes of the breaches while the French defenders rained musket balls, grapeshot, fused shells and grenades down upon them. Corpses piled up in the ditches and breaches, with more than 5,000 Allied soldiers killed or wounded in a single night.

When the French defence finally collapsed, the besiegers sacked the town in an orgy of drink, theft, rape and murder. Hundreds of Spanish civilians were killed by men who were supposed to be their allies.
This page contains a substantially condensed version of the sleeve notes that accompany 'Over the Hills'. For a more detailed look at the history behind these songs, along with a bibliography of the books that were invaluable in writing them, you can purchase a copy of the album here.